Let yourselves go – Your Benefits as a Couple
It can take a while to find the perfect method of contraception, even in serious relationships. That's why our couples were surprised about their positive experiences with MISTER SIZE. Take a look at what they had to say:
"We are demanding in every situation"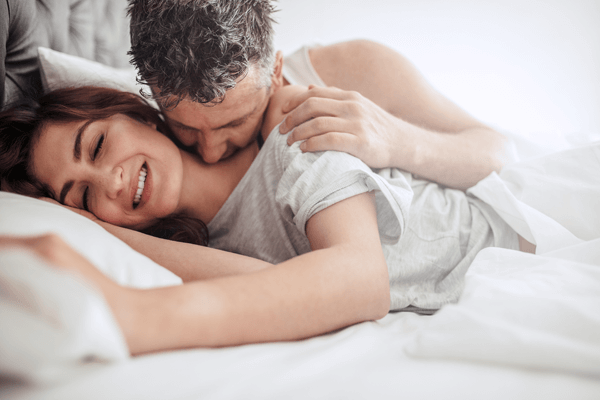 Luis: "We have been together for 16 years now and have always had a very good sex life. Well, at least from my side."
Johanna: "There are no complaints from me!
Luis: "Ha-ha, that's a relief."
Johanna: "A year ago, however, I decided to stop putting hormones into my body and stopped taking the pill. As a consequence, we had to look for a new contraception. Right from the start, condoms were my preferred choice because they're very safe and without any complicated bodily intervention. Furthermore, I also felt that I'd taken care of contraception long enough on my own, but with condoms, we could both assume equal responsibility.
Luis: "To be honest, I was rather sceptical at first. It had been a while, but I'd had bad experiences with condoms. Often, they didn't fit properly and the feeling was only half as good as without. Sex with a condom was let's say underwhelming.
Johanna: "That made me feel uneasy. I didn't want to negatively affect what we had. That's why I researched to find the best solution for condoms. I then came across MISTER SIZE via a recommendation on an online forum so I ordered some straight away."
Luis: "I am a big fan of customized products (in my cupboard I have two custom-made suits), which is why I liked the idea of measuring right away. Immediately, the condoms that arrived felt like they were made for me.
Johanna: "The first time I used a condom after such a long time, I was wondering whether we would be satisfied. But all my doubts vanished after a few minutes. It was as beautiful as ever."
"We can fully relax and have so much fun"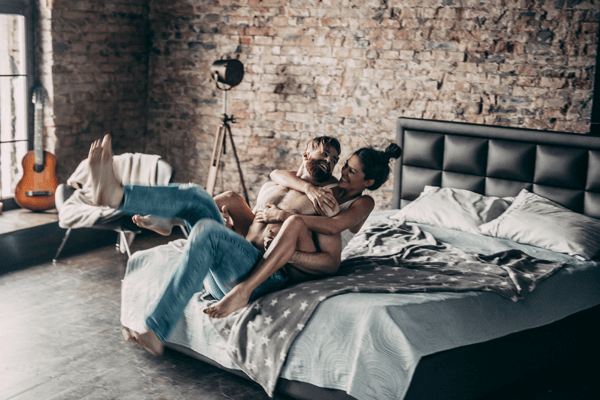 Nora: "Felix and I have been together for three years. During that time, it had mainly been a long-distance relationship but half a year ago I moved to Berlin and also started my own business and things have been going well. So, at the moment, I have quite a bit on my mind and simply no time for a child.
Felix: "It's pretty much the same for me, which is why we are in total agreement about the "starting a family" topic. For sure at some point I'd like children, but not now."
Nora: "But we still like sex and have it a lot (laughs). So, naturally we have to be very careful."
Felix: "Choosing a condom is not easy for me because I don't have an average sized penis. The condom has actually slipped off twice during sex which created a bit of commotion at the time — not exactly what you want during sex. Then there is the anxiety and stress that follows for a while.
Nora: "At some point I said, there must be condoms that don't just offer a standard size. We can't be the only ones who need something a bit more personalised."
Felix: "A mate of mine then recommended MISTER SIZE to me. I bought a pack of three sizes for testing and I immediately found one that felt just right."
Nora: "We're much more relaxed now and plus it's now even more fun."
Taking Responsibility Together & More Pleasure – The Benefits for Couples
Especially in a longer relationship, it is worth reflecting on your previous experiences and once again consider what is the perfect contraceptive method for both of you.
Often condoms are used as a 'quick' or 'last resort' solution, simply because the pill is no longer a wise choice due to the side effects. Condoms are totally underestimated, but if you are willing to invest a little time on here to find the optimal, right sized condom, contraception will be much more pleasant and easier than ever before.
Personal Sizes for Carefree Pleasure with Intense Sensations
With individual sizes, MISTER SIZE ensures that you can enjoy your moments together completely carefree. A perfectly fitting condom, no danger of slipping, no restrictions of any kind and only a wafer-thin layer that seems to unite you, rather than lie between you. All this nicely comes together, enabling you both to fully lose yourself in each other and experience sensations and feelings as intensely as ever before.
Be as One - in Contraception as well as in Sex
It is good for your relationship and therefore for your sex life, if you can make important decisions together without either of you feeling like you have given something up. That's why MISTER SIZE works so well for contraception. With a perfectly fitting condom, there is no loss of feeling and no side effects like hormonal methods - which are thankfully and finally a thing of the past. What you do get is, a good feeling in every respect because you decided it together and can now enjoy the benefits together — wonderful moments during great sex.