The MISTER SIZE story - the vision of the perfect condom experience
Let's be real: Which man actually thinks condoms are good? Probably hardly any. Even our company founder, Jan Vinzenz Krause, has not enjoyed them. There are only standard sizes in the drugstore. The condom is somehow an annoying duty to protect oneself and the partner from transmissible diseases, to prevent unwanted pregnancy - but generally the good old rubber is considered a lust killer. Saggy past. So at Vinergy, we set out to find the perfect-fitting condom without limiting the pleasure experience. The result of our search is MISTER SIZE.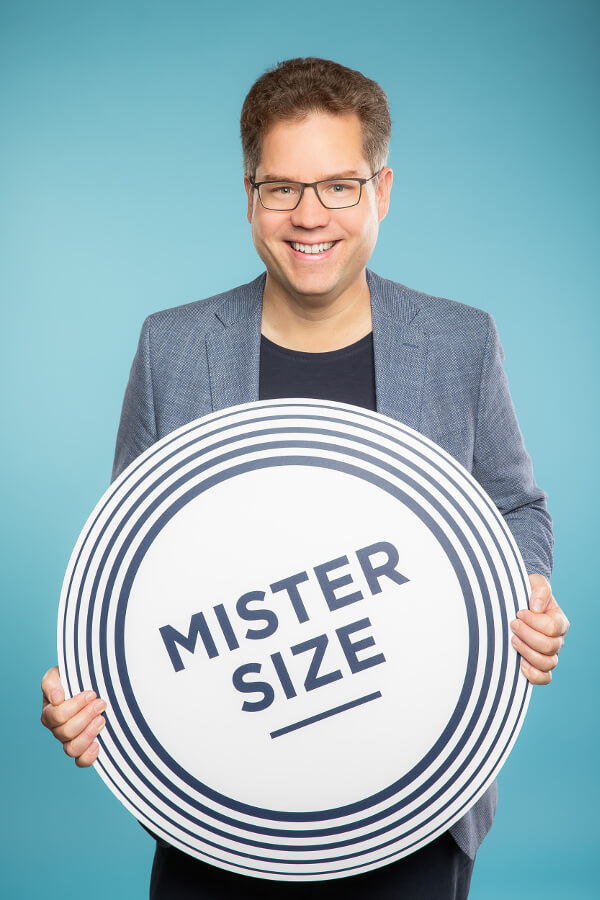 MISTER SIZE is the condom that looks like a condom, protects like a condom - but doesn't feel like a condom at all when in use. Why? Because man and woman barely feel it. It is thin. So thin that it is almost invisible - just 0.05 millimeters. Virtually indetectable and yet equipped with all the security it needs to concentrate fully on the partner and his intimate wishes during hot lovemaking.
But it's not just the vanishingly thin thickness that provides a tangible boost to pleasure: MISTER SIZE is available in seven different sizes - after all, every man's best piece is also quite individual. Our condoms feel perfectly snug on the erect penis, merging into a pleasurable unit. Socks or gloves are also available in several sizes so that they don't pinch or are too wide and lose their grip. Different condom sizes are only logical and consistent. Even measuring the circumference with the MISTER SIZER is a tingling affair. Putting on the perfectly fitting condom becomes an exciting part of lovemaking. In the past, reaching for a condom was synonymous with a pleasure hole - but today, both man and woman quickly discover that the thin and perfectly fitting condom is the key to carefree pleasure.
You can indulge in boundless ecstasy without fear of slipping, bursting or even losing the condom. Felix and Nora, a couple from Wittenberg, have tried MISTER SIZE - and don't even want to make love without it. "We can let ourselves go - and have the fun of our lives," the two say. "My head is in the clouds during sex, not worrying about contraception," wrote another customer. Using MISTER SIZE guarantees just that - you can indulge in love, and the condom takes care of the rest.
Our creative team at the Vinergy group of companies is constantly on the lookout for the next innovative idea, the tingling novelty that promises even more pleasure and a higher erotic factor. If you want to have good sex, you have to be able to let your thoughts run free - that was the starting point. For our company founder Jan Vinzenz Krause, for example, everything revolved around condoms from a very early age. Already in his kids room at his parents' home in Bonn, he ran an online condom mail order business and a condom advice service. The use of condoms should become a matter of course - without mental pressure, without fear, without an inner holdback. What was long considered a hopeless endeavor is now a reality with MISTER SIZE.
Our claim is to make it possible for every person - no matter what form - to have the best sex of their life, even with a condom. We are constantly working on this and are happy to receive any feedback. So feel free to contact us at any time if you have any questions, suggestions or ideas for improvement.