Individual Sizes with MISTER SIZE - As Individual as You
Shoes, shirts and jackets are usually bought to fit perfectly, but have you ever thought about getting the right condom size? MISTER SIZE now puts a firm end to the one-size-fits-all and XXL model. Instead, you get an ultra-thin condom that fits like a glove. For sure, you will feel the difference and it is pure sex from now on.
The Right Condom Size – Why Remeasuring is Worth It
Why is having an individually sized condom so important? Is it really worth it? Here you will find the difference between a standard one-fits-all condom and a condom that is just right for you.
For Pioneers & Tech Enthusiasts: MISTER SIZE Smart
Are you into technical innovations and want to know the right condom size for you now? Then use our MISTER SIZE Smart and measure your manhood directly with your mobile phone or tablet.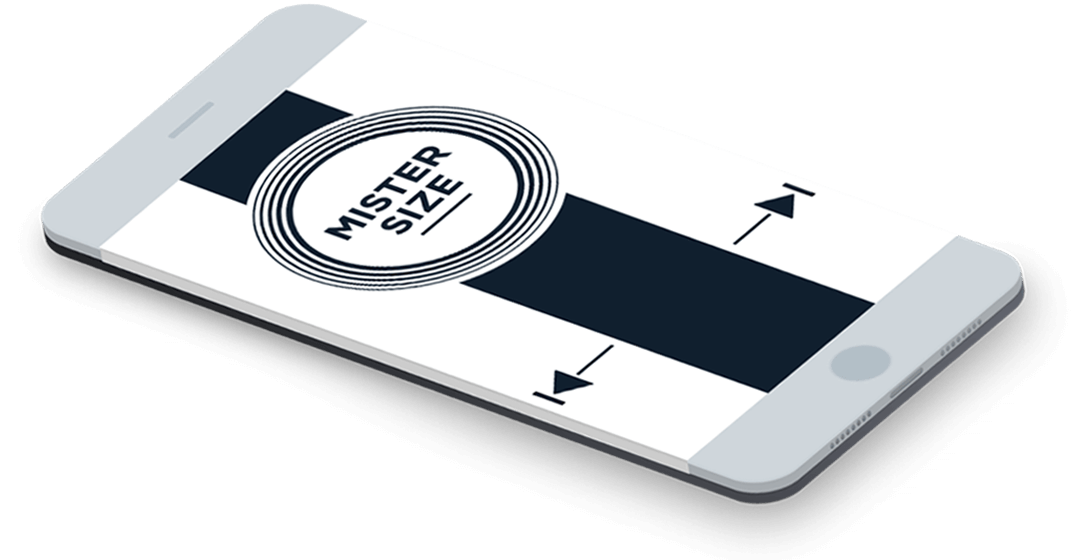 For Classic Characters: MISTER SIZE Measuring Tape
Of course, classical measuring is also possible. All you need to do is print out our MISTER SIZE measuring tape and get started without delay.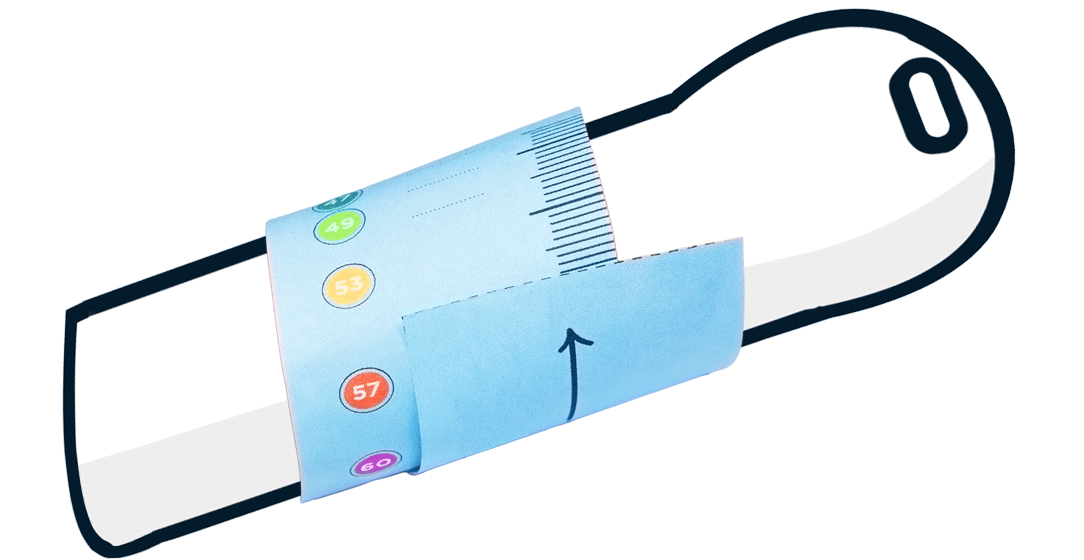 For The Pragmatists: MISTER SIZER
Our MISTER SIZER is a practical tool in a check-card format which you can use to easily determine the right condom size for you. Great also for women who want more feeling and security on their next date.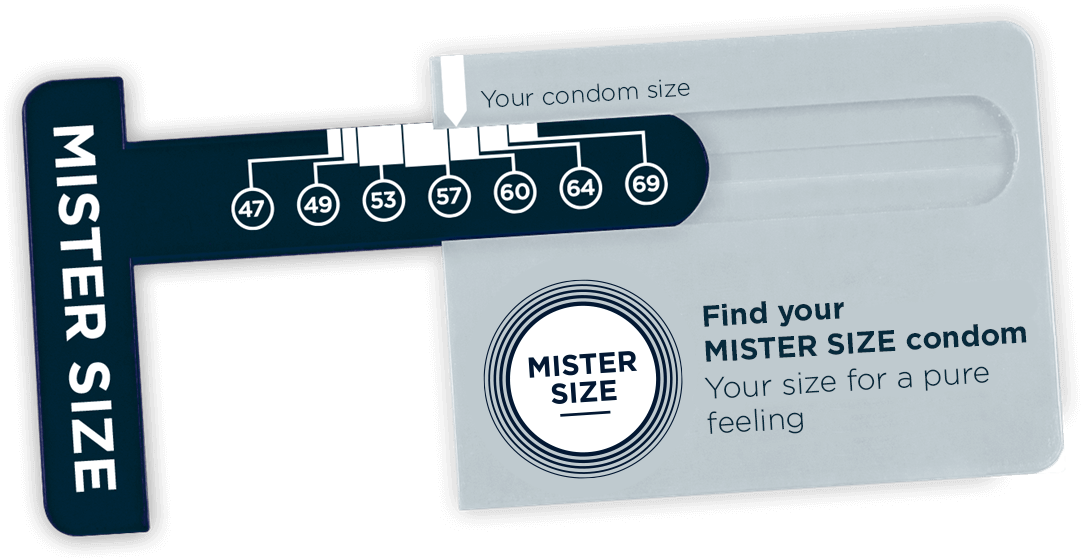 Let me guess...
Why spend time measuring when you can just try it out?
If you already have a rough idea of your size and would prefer to put MISTER SIZE to the test immediately, you can directly order one of our practical Test Packs. The sets consist of three packs in three different but adjacent sizes. You can then decide which condom fits you the best!
Little tip: If you come across MISTER SIZE in a shop, the middle dark blue bar will help you to estimate the right size...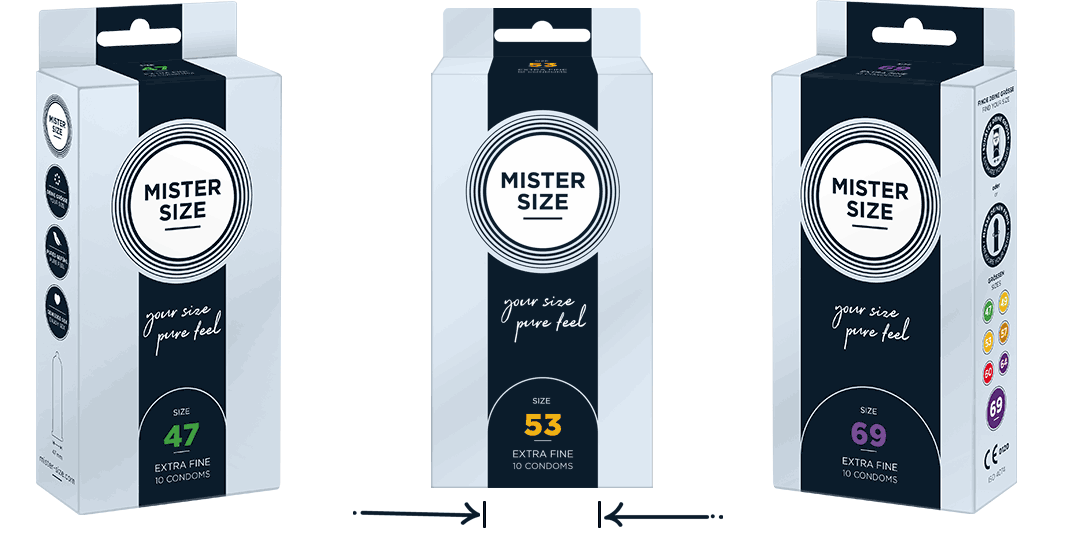 Show Your True Size – With MISTER SIZE
Why are there different condom sizes?
Every person is unique - this applies to both a person's character and their body. That's why we usually try on clothes before we buy them. After all, we want everything to fit perfectly so we feel our best. It's only really with condoms that the crazy assumption is "all penises are the same" — I think you will have certainly noticed yourself that this is absolutely not true.
So, at MISTER SIZE we told ourselves that we wanted to do full justice to the man's diversity. Seven different condom sizes are offered, one of which will fit you perfectly. You will instantly notice the difference in feeling, plus a perfectly fitting condom is a much safer condom!
What sizes are there anyway?
For the most part, condoms are only available in standard sizes with a circumference normally between 52 mm and 54 mm. There are also XXL condoms, which usually have a circumference of 55 mm to 57 mm. As you can clearly see, the range is very narrow. Therefore, if you don't fit into this range, you will experience problems with condoms that are either a bit loose or too tight which annoyingly pinch and nip. Therefore, it's no wonder that many men prefer to give condoms a miss; which of course is not so smart either.
To prevent you from experiencing these issues, MISTER SIZE offers a selection of seven different sizes, from 47 mm to 69 mm in circumference. This finally makes it easy to find a condom that eliminates all the annoying side effects and allows you to concentrate on the most beautiful thing in the world.
Discover your own condom size
If you don't know your own condom size yet, you can find it out in three different ways:
directly from your mobile phone or tablet with our MISTER SIZE Smart
with the MISTER SIZE measuring tape - easy to print, measure and read
with the practical MISTER SIZER, which you get free of charge from us
the middle dark blue bar on our packages will help you to estimate the right size
Get started now and start enjoying great sex with a condom right away.